About Golden Triangle Tours
Gold metal is one of the precious metals since time immemorial. It has been the passion of ladies for jewelry and has been a good asset for investment. It is supposed to originate from Latin word Aurum which refer shining down. According to Sanskrit scriptures Gold is referred as Hiranya. Triangle word is based on the fusion of two words Tri+angle which mean three corners. Thus golden triangle tours means tour of 3 most important tourist cities of Golden importance which are based in a triangle shape.
Read More
Golden Triangle India
So far as Golden triangle India is concerned is refers to Delhi Agra Jaipur tour in North India. This tour can originate from every of these cities. But most popular origin point in Delhi on account of Indira Gandhi International airport. In the other case of you land at Jaipur airport you can visit the cities in such sequence –Jaipur , Agra, Delhi. While if you start from Delhi you do ot such as –Delhi, Agra , Jaipur if you start from Agra you can end at Delhi or Jaipur.
Golden Triangle tour packages are of varied time frame most popular in these packages is Golden Triangle tour 3 Days. In case you do not want to make it hectic you can choose booking 4 or 5 days triangle tour. In which you can move on at an easy pace and include some cultural tours & ctivities in each city.
What to visit in Golden Triangle Tours?
Golden triangle tours give you the delight of visiting the most famous tours & attractions of islam and Hindu architecture. In Delhi, you get to see the Lofty towers Qutub Minar, Humayun's tomb, and the Red fort. Besides these you visit religious places such as the Jama Masjid, Lotus temple and the attractions of new Delhi such as India gate, Rashtrapati  Bhawan etc.
In Agra you encounter the Mughal architecture in Agra and Fatehpur Sikri monuments. Obviously, the iconic Taj Mahal is the top attraction in Agra but you also get to see the Agra fort, Itmad ud daula's tomb, Akbar's tomb and other famed monuments.
Which driving towards Jaipur you get enamored with the fabulous architecture of Fatehpur Sikri group of monuments. You can also make a plan to visit the Abaneri step well. In the pink city you visit the celebrated Amer fort, City palace, and Hawa Mahal. Besides them, you can make an excursion to Galtaji, Nahargarh fort also.
Each of the cities of the Golden Triangle tours has top cultural activities to take part. In Delhi you can enjoy old Delhi walking tour while in Agra you can opt for Mohabbat –e –Taj cultural show. In the pink city you can visit the Elephant village enjoy the driver and show at Chokhi Dhani.
With Golden triangle tours you can enjoy some other famed tourist cities located in the same circuit. You can plan visiting Ranthambore Tiger Park or Bharatpur Bird sanctuary. You can include Varanasi and Udaipur or some other popular destinations of Rajasthan. The most popular time to visit Golden triangle tour is from September to April as the temperature is very favorable during this time of the year.
Read Less
Golden Triangle Tour 3 Days
03 Days
Pickup Available
Skip the ticket line
Pay On Arrival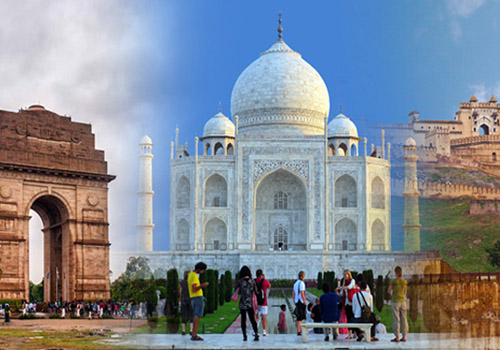 Golden Triangle Tour 4 Days
04 Days
Pickup Available
Skip the ticket line
Pay On Arrival
 Duration – 7 Days
 Skip the line entry tickets
 Hassel free
Instant booking
05 Days
Pickup Available
Skip the ticket line
Pay On Arrival
07 Days
Pickup Available
Skip the ticket line
Pay On Arrival
Golden Triangle Tour 3 Days
03 Days
Pickup Available
Skip the ticket line
Pay On Arrival
Golden Triangle Tour 3 Days
03 Days
Pickup Available
Skip the ticket line
Pay On Arrival
Golden Triangle Tour 3 Days
03 Days
Pickup Available
Skip the ticket line
Pay On Arrival